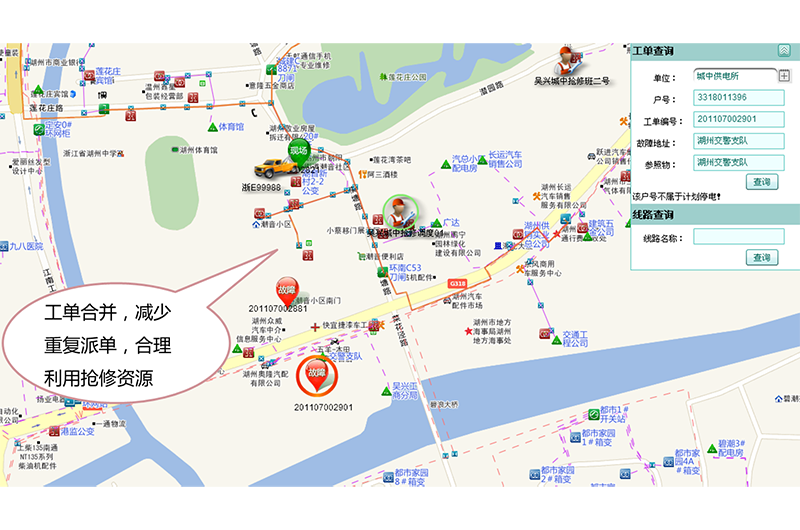 Urgent repair end integration
Integrate the municipal (county) work order receiving and sending organizations into one work order handling organization to research, judge and control faults in a unified way. Strengthen the integrative urgent repair of low voltage meter faults, power cut due to arrearage and power supply recovery to achieve the urgent repair end integration.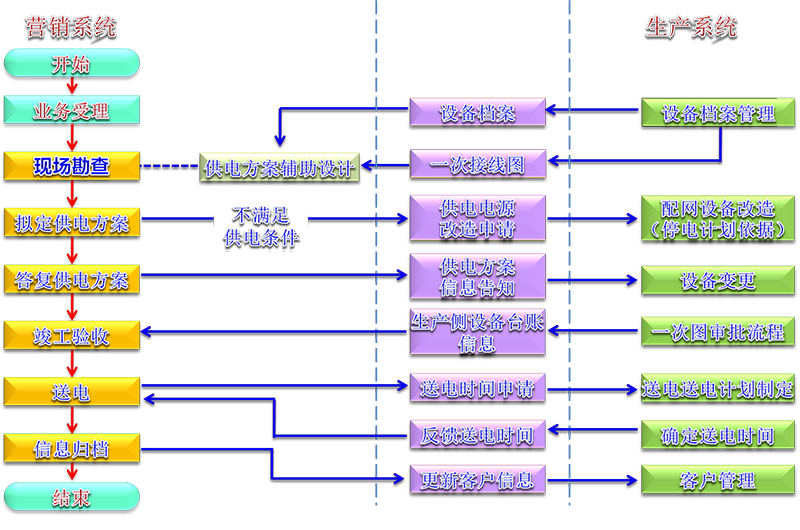 Integration of marketing, power distribution, scheduling and power supply procedure handling
Taking further enhancing the power supply expansion procedure handling efficiency as the target, online share the openable capacity of the power grid, accelerate the power supply plan formulation and reply, synchronously examine the power connection of the power supply expansion and hot-line operation, optimize power transmission link and realize the power supply procedure handling end integration.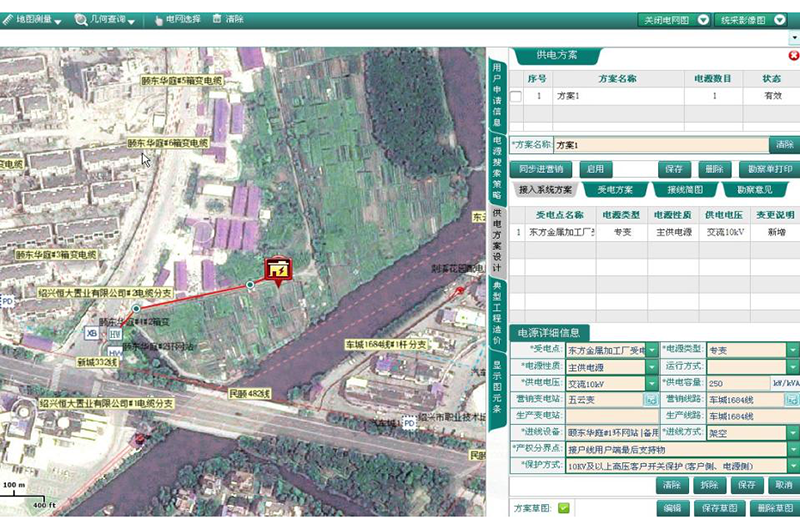 Auxiliary design of power supply expansion procedure handling
By establishing visual power grid models, device models and user models on the GIS platform, comprehensively analyze the investment cost, power supply capacity and power supply quality, provide best reference power supply source connection points for power supply expansion procedure handling, automatically generate power supply plans and effectively reduce the power supply expansion procedure handling time according to the existing power distribution structure and power line loads. If the power supply points cannot meet the power supply demand, a power supply reform flow can be submitted to the production system, realize the collaborative operation of marketing and production and efficiently satisfy the demands of customers.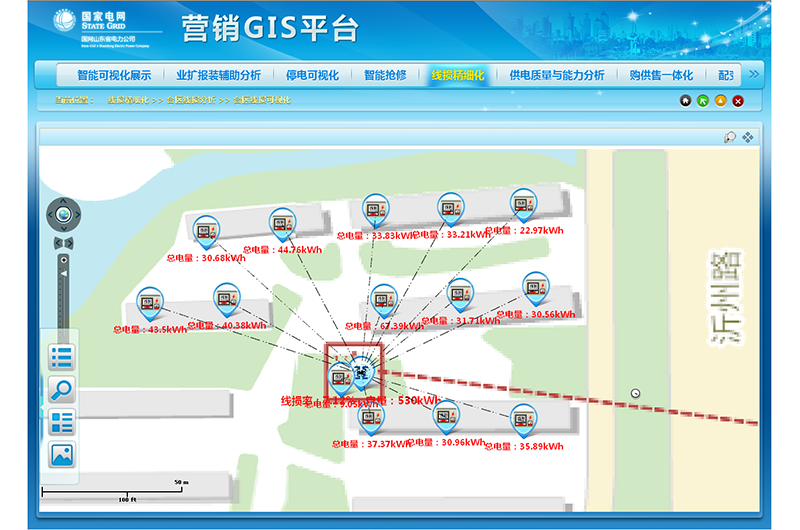 Lean line loss management
Relying on the power consumption information collection system, establish a line loss assessment and calculation model for power distribution lines and low voltage transformer power supply lines so that the system can automatically update the line loss calculation model of the marketing system according to the electric device change of the power distribution network automation system and the PMS system, ensure the accuracy and timeliness of the line loss calculation and implement the accurate calculation function of the line loss.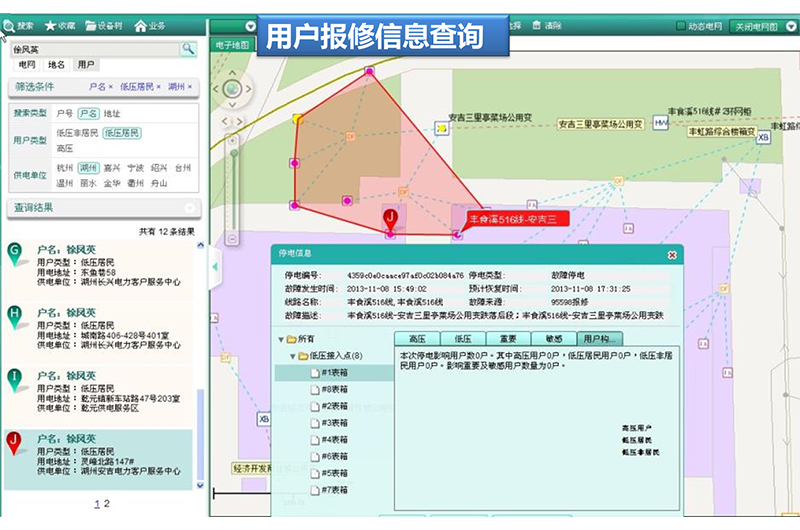 Integration of power cut (transmission)
Make generally balanced power cut plans, analyze the planned (accidental) household power cut, regularly send reports and notices to customers and achieve the power cut (transmission) end integration.

Analyze and apply the marketing, power distribution and scheduling big data
Deeply analyze and research the universal problems of the operation, the service segment of customer groups, power cut information and its application, auxiliary power distribution network plans, equipment governance, etc. Make proposals on relevant transformation of the original business system and solve the weak management problems by adopting the closed-loop elimination method.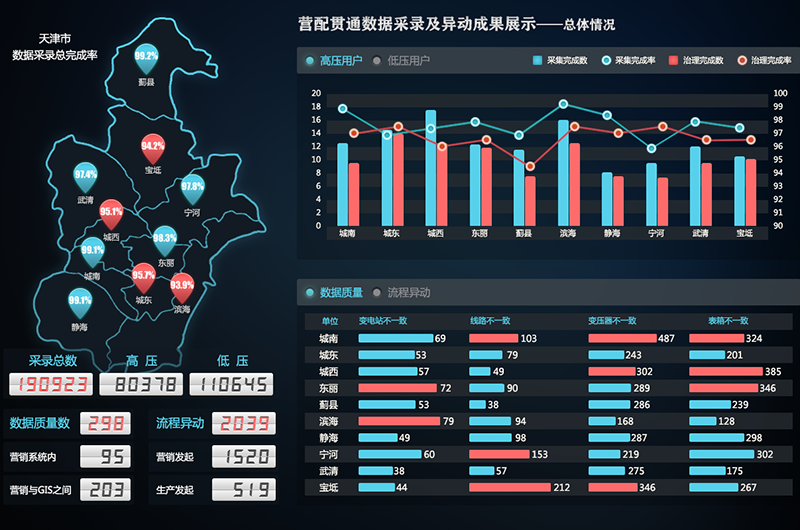 Visual display of marketing, power distribution and scheduling achievements
Build a marketing, power distribution and scheduling index monitoring platform based on the marketing and power distribution integration, strengthen the marketing, power distribution and scheduling index monitoring through the platform, monitor the indexes in their whole processes, andmanage the index monitoring and process to improve the indexes.